Oxfam's Free Guide to Global Citizenship
Oxfam have just sent me details of their new free guide for teachers on Global Citizenship...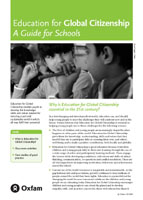 "
Education for Global Citizenship: A Guide for Schools
is a new
free
booklet for teachers that introduces the key elements of Education for Global Citizenship, and clearly sets out how teachers can incorporate this into their teaching and across their school.
It is a fully revised and updated version of our ground-breaking Curriculum for Global Citizenship booklet, first published in 1997 and distributed to more than 47,000 teachers in the UK and abroad.
This accessible, practical guide includes:
· activities for teachers to explore with colleagues what Education for Global Citizenship means
· case studies of schools which have integrated Education for Global Citizenship across their curriculum and ethos, and the positive impacts it has had on their pupils
· Education for Global Citizenship activities that can be adapted for
use in many curriculum areas, with a wide range of age groups and ability levels.
For more information and to order your free copy visit
http://www.oxfam.org.uk/coolplanet/teachers/globciti/index.htm
."