Newspaper Activities

A few ideas for activities that you can do based on Newspapers.

---

Who? What? Where? When? Why?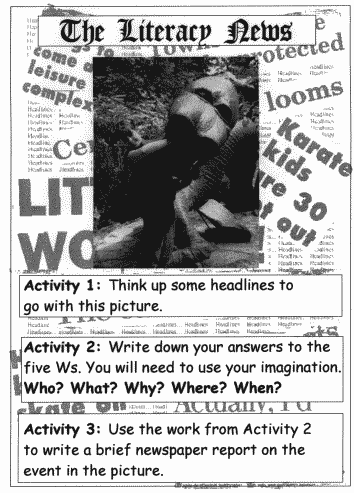 Get the children to look at newspaper stories and find the answers to the five W's of journalistic writing. Give them interesting photos and ask them to make up a newspaper story about the photo. Link your newspaper reports to a history topic (e.g. the Second World War) for added interest. Look at the structure of newspaper reports. Collect together (perhaps for homework) examples of newspaper headlines.
Click here for a PDF of the worksheet above
---

Punny (?) Headlines
Cover work on homonyms by looking at the way that headlines use puns. Here's some examples...
New Rules Keep Fishermen in Plaice
Sleepless Knights at Haunted Castle
"Sew What?" ask Clothes Manufacturers
Witch Halloween Costume Is For You?
Literacy Hour gives pupils the right to write.
Bakers have Flour Power
A Horse's Mane Problem
---